The relationship between an artist and their photographer can be very important if the artist is prolific and is working to grow within their medium. The last thing they want to be burdened with is learning how to create great photographs their own work.
I first started working with fused glass artist Nina Falk when she was recommended to me by the American Crafts Council to help with her images. She was accepted into Baltimore and we had an opportunity to meet while I was at the show doing an imaging seminar.
Because she felt comfortable working with me, she decided to send me some of her glass to photograph. Because of the translucency in her work, it needed to be shot on a white background with light coming from the back through the glass. Besides the two large white umbrellas I normally use, I set up a third light overhead in a strip light box to direct the light down and slightly back bouncing the light off the white background behind the work making it come alive.

"Autumn Waves" by Nina Falk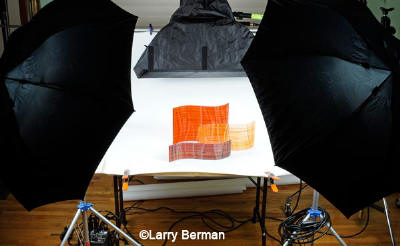 Lighting for "Autumn Waves"
Because of the way that first image (Autumn Waves) came out, Nina started sending me glass to photograph on a regular basis. She even drove from Baltimore to Pittsburgh with a car full of glass and we spent the better part of two days creating different compositions of her glass for me to photograph, like the blue "Flow" composition below.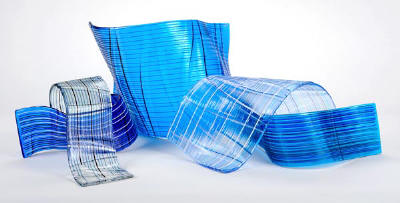 Blue Composition of Nina Falk's "Flow"
Another time, she sent me so much glass to photograph that I was able to create some abstract compositions, besides the photographs she needed for jury images.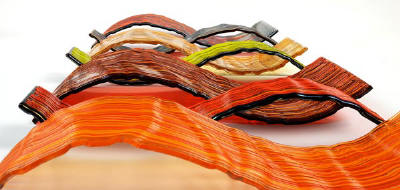 Abstract Composition of Nina Falk's "Waves"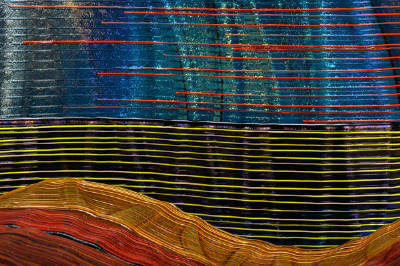 Abstract Composition of Nina Falk's "Waves"
When she needed a full page ad for American Style Magazine (Dec 2008), I was able to use the above abstract as a washed down page background in the ad (below).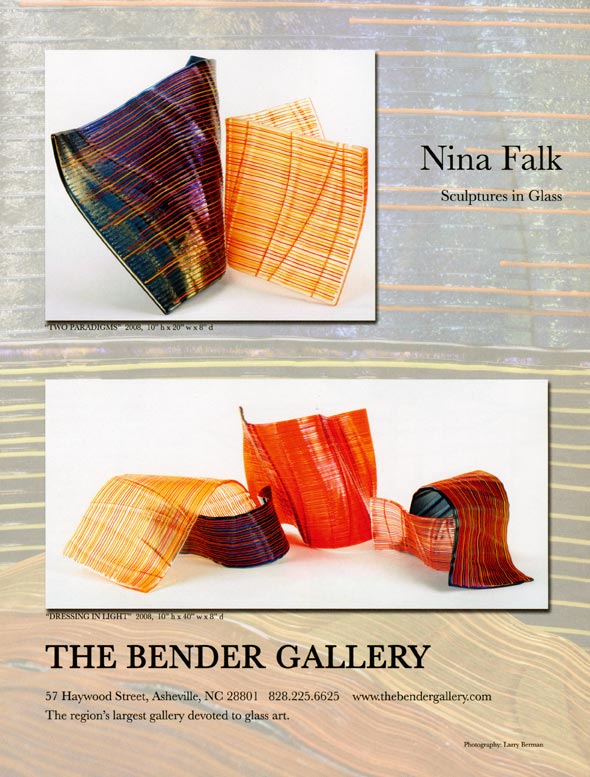 Besides the galleries that represent her, Nina Falk's glass appears on the Artful Home web site. She asked me to create this photograph of her "Christmas Waves" as part of her submission (below).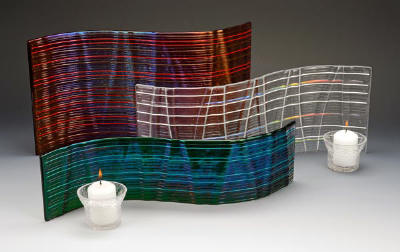 "Christmas Waves" by Nina Falk
Working as a team has given both of us the freedom to experiment and create within our chosen mediums. It's not often that a photographer gets that much work from an artist to photograph, but when it does, great things can happen.
Visit Nina Falk's web sites:
http://NinaFalkGlass.com
http://MusicAndGlass.com
all photographs ©Larry Berman