Ann Arbor iPhone App Updated
Ann Arbor iPhone App Updated and good luck to all the artists there. Today is the first day of the show. Ann Arbor, the combined art shows, updated their iPhone/iPad app a few weeks ago listing all the artists by medium with links to their location on a map of the combined shows.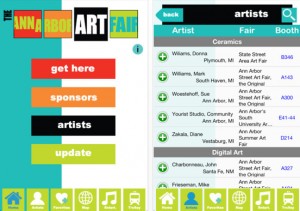 Ann Arbor iPhone App showing the main screen and artist list
Now if they would also give us contact information for each artists. But I'm not complaining that much. Cherry Creek never updated their app from last year that didn't run at all.
Here's a link to my article from last year about all the art shows that have mobile device apps.