[ Back ] [ Up ] [ Next ] [ Search the Site ] [ Digital Jury Services ]
Large Capacity Storage Devices
for the Digital Photographer on the Go
By Chris Maher and Larry Berman
Traveling with a digital camera is great, until your memory card fills up. Of course, you can lug along a laptop, transferring images to it as you go. But that adds considerable weight and bulk to your travel gear. What the serious traveling photographer needs is maximum amounts of storage that will take up a minimal amount of space.
Bigger and Better Compact Flash Cards
New high capacity Compact Flash (CF) cards from Sandisk and Lexar are promising to provide ample room to shoot. Both companies are scheduled to ship 512MB cards by the time you read this. We are currently using a 320MB card from Lexar, and it's a dream to work with. Our Nikon Coolpix 990 can store almost 300 images on it, and it is the fastest card we've used to date. The new 512MB cards will offer even greater room to store images to those who can afford it. Cost, of course, is the primary drawback to storing images on solid state based media. At about $1.50 per-megabyte (street price) it's certainly not a media for long term storage.
Tiny Hard Drives With Big Capacities
IBM's Microdrive is a one-inch wonder. Originally available as at 160MB and 340MB, it now has a full 1-Gigabyte capacity. It's per megabyte costs are lower than solid state media, running closer to fifty cents per megabyte. Unfortunately, it's form factor and power requirements prevent its use in many cameras. Only equipment that can support the Type II CF+ specifications can fit it in. Most cameras that use Compact Flash media are designed for Type I cards, which are no more than 3.3mm thick. Type II cards are a bulkier 5mm.
Truly Portable External Storage Devices
The Digital Wallet and Image Bank are both portable hard drive units that are designed to directly download data from your Compact Flash, Smart Media, or IBM Microdrive - without the need for a computer. (The Digital Wallet also can transfer data from Sony's Memory Stick media). Simply plug in your card, and the built in operating system copies your images to the external unit. Their huge capacity, small size, and light weight make them a formidable tool for storing vast numbers of pictures. Devices of this nature are even more useful if your camera is limited to taking the inherently lower capacity Memory Stick or Smart Media.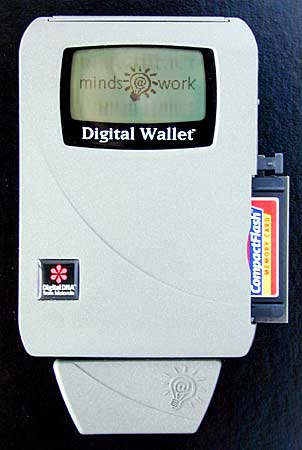 The Digital Wallet shown with Type II Adapter
containing CompactFlash card
Minds@Work introduced the $499 Digital Wallet in July of 2000. It consists of a 6-gigabyte hard drive controlled by a Motorola ColdFire microprocessor and powered by an internal NiMH battery pack. Its 13oz (350g) weight and small 5.25 x 3.75 x 1.25" size (135 x 95 x 32 mm) makes it truly portable.
The unit has a type II PCMCIA slot on the side, a 6 line LCD screen on the front, and a connector for the power and USB adapter on the bottom of the unit. Its plastic parts have been described as flimsy, but we found them to be quite functional, if lightweight.
Operation of the Digital Wallet is simple, just plug your media into an adapter, insert it into the PCMCIA slot and push a single button. Your data is then transferred automatically to the unit's 2.5" hard drive. The internal battery can power the unit for up to 2 ½ hours. This is really quite a bit of time, as the unit only needs to be powered up for data transfer, and shuts it self off after 30 seconds of inactivity.
Getting the data onto your computer is also easy. Just connect the USB cable, load drivers (Mac users don't even have to deal with drivers) and the unit shows up as a removable disk. Drag, drop or use any files as would from any other hard drive on you system.
This unit has the space needed to hold weeks worth of serious shooting, and adds very little to your travel weight. Despite it's initial expense, the cost per megabyte, at about eight cents, is remarkably low.
The Image Bank is a new portable storage device set to directly compete with the Digital Wallet. (review with pictures) Somewhat smaller and sturdier feeling than the Digital Wallet, it has no internal battery, relying instead on a separate battery pack. Currently shipping with a 3.2-gigabyte hard drive, it can easily be upgraded with any size 2.5-inch drive. At just 5.2 x 3.3 x 1.1 inches with a weight of only 11 ounces, (not including the separate battery pack) this device is quite portable.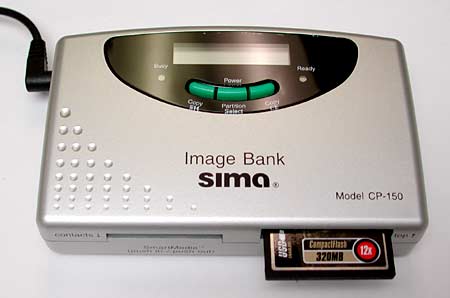 The Image Bank shown with CompactFlash Card
The Image Bank has separate input slots for SmartMedia cards and Compact Flash (type 1) or MicroDrives (type II), eliminating the need for adapters. Included are AC or 12 volt plugs and, by the time you read this, there will also be a double A battery pack that can take standard AA batteries or NiMH rechargeables. By not including an internal rechargeable battery pack, and utilizing a 3.2-gigabyte hard drive, Sima has been able to retail the device at $399, and expects the street price to be around $299. This yields a favorable price per megabyte of between 10 to 12 cents, at a lower initial cost than the Digital Wallet.
Both units were speedy in transferring data. Moving the contents of a 128MB SanDisk CF card to the Digital Wallet took 1 minute and 45 seconds. The Image Bank easily copied the entire contents of a 320-megabyte Lexar CF card in approximately three minutes.
We should note that these devices only copy your data, they don't remove your pictures from your cards. It's still necessary to reformat your card in your camera to continue shooting.
Direct Transfers to Zip Drives
Iomega has created a somewhat different storage device called the FotoShow. This unit is a 250MB USB zip drive with the ability to directly import your image files through a built in Compact Flash/MicroDrive and SmartMedia card reader. It is not battery powered, but does come with a 12-volt car adapter for field use.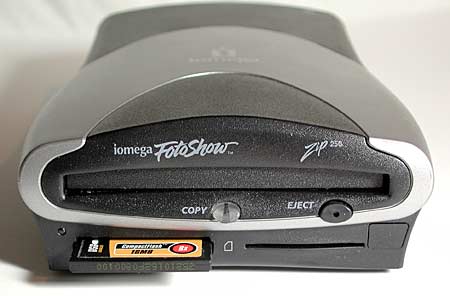 Iomega's FotoShow shown with CompactFlash Card
Now, a 250MB zip disk may not sound like a lot of storage compared to the other devices that we have discussed here (especially in the 100MB size, which it works with also), but zip disks are inexpensive and readily available, giving it a virtually unlimited capacity. And the cost of the media is less than five cents per megabyte. With a street price of around $250, this unit offers some interesting options.
In addition to copying images to a zip disk, it's built in software can also output to the video input of a TV and create a customized presentation of images. You can then use a VCR to record it and send your images to relatives who might not have access to a computer. The built in software gives you all the image editing tools you might need to make the presentation look good.
We did note one limitation. The FotoShow wouldn't copy files from a compact flash card with a larger capacity than the zip disk itself. And the transfer rate was half that of the other drives we tested.
So, which form of 'on the go storage' is right for you? There are lots of options, and as camera resolution (and thus file size) continues to increase you'll look back and wonder how you ever managed without one!
Links:
This copyrighted article was prepared for
e-Digital Photo magazine and may not reproduced