Shadyside Google AdSense Ad
Last night I noticed that Howard Alan is using Google AdSense as part of his advertising campaign for the Pittsburgh Shadyside art show this weekend. Google's AdSense program uses web site content and the viewer's geographical location to serve related advertisements when the viewer looks at web pages on participating web sites.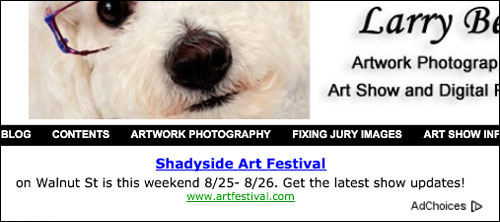 screen capture of an AdSense ad
I didn't click on the ad to see what it was linked to but I assume it went to Howard Alan's web site. It's a violation of Google's terms of service to click on ads on your own web site.
I'll see Howard Alan this weekend and will mention it to him. I'm curious to know what he's spending on it and if he's experienced an increase in attendance, if that's even possible to tell. I assume he's doing it for most, if not all of his shows as part of his advertising budget. I'll be updating this article if I learn anything relevant.
The Google AdSense ads can be seen at the top and bottom of all the pages on BermanGraphics.