[ Back ] [ Up ] [ Next ] [ Search the Site ] [ Digital Jury Services ]
Using Forums to Solve Problems
There are two types of forums. Internet based forums, where the messages can only be read or posts can be made on a web site. The second, which I prefer, is the e-mail forum where every post comes into your e-mail and replies can be made the through e-mail also.
There are two types of questions asked on the forums. One that could only be answered with real world experience and the other that anyone with a book can look up. Before I ask a question, I make sure to research all possible answers so as not to waste the forum's time. I have books for every major program I use. I belong to forums for all the major programs I use. They are all resources. I also use a good bookmark program so I can access information from over 6000 web sites I've visited. I usually never read threads with more than 5 posts because I figure that the person has the answer already and the rest are just opinions or "me too" posts.
There are two ways that I use the forums to solve problems.
The first is as a place to ask questions, and for the most part, get immediate results. For example, I was setting up a new computer and it wouldn't recognize my slide scanner. I posted to the scanner forum and within an hour, I had the solution. Not remarkable, except that it was 10:00PM on a Saturday evening.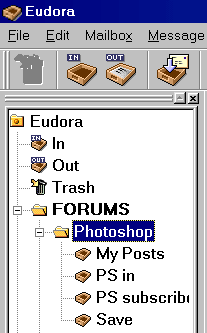 The second is as an ongoing source for information on subjects I'm interested in. I can effectively use my e-mail program to sort messages from various forums, like in this example. I have an upper level folder in Eudora called "FORUMS". When I subscribe to a forum, I set up a sub folder with the forum name that contains 4 mailboxes. One mailbox just has the "Subscription" information. The next mailbox is the "IN" box for that particular forum. All messages with that forum's name are filtered so they automatically go into that box. The third mailbox is a box I titled "My Posts", which is for the obvious. I can go back at a future time and see how badly I made a fool of my self. No, seriously, I keep all my forum posts so I can reference myself if I need to give the same information again. Sometimes it helps me organize my thoughts by rereading them and I'll use the information to create helpful web page content. The fourth mailbox is for the information I feel useful enough to "SAVE". Additionally, if I communicate with forum members off list, I'll create a fifth mailbox titled "Personal". I've found the search function in the current version of Eudora to be excellent and I can find anything in my e-mail program in seconds.
Forum Tips
| | |
| --- | --- |
| | When posting to a forum to answer a question, I believe in being as helpful as possible and always try to provide links to back up my statements and to provide additional information. |
| | "Snip" the message you are replying to. That is, delete the parts of the message that are not relevant to your reply. I try to keep one sentence or thought from the original message when replying. |
| | Reply at the top of the message so you don't force people to reread something they've already seen. Then they can scroll down to read what you're replying to it it's necessary. |
| | If you want your mailboxes to line up in a certain order, rename them to start with a number. |
| | How to file information that contains the incorrect subject. If it's information I think is important enough to save, I'll forward the message to myself, with the correct subject listed, and file it in the proper mailbox. It's easier to do that than to try to change human nature. |
| | If I make an important post to an Internet based forum, I copy and past the message into an e-mail to myself so I can keep it as a future reference. |
| | I try to keep all relevant posts to threads I'm interested in until the thread is complete so I don't make the mistake of quoting or responding to the wrong person. |
| | It's essential to keep your e-mail organized so you can use the information efficiently. |
| | For web site URL's that I want to bookmark and return to at a later time, I use a program called Powermarks. |
| | I use the Opera browser specifically for web sites (like the DPReview forums) that don't let you resize the fonts. Opera is proportionally scaleable and makes reading smaller type much easier. Like Powermarks, It's listed on my recommended programs page. |
These are some of the forums I participate in.
There are a few more that I monitor occasionally.
CoolPix 990

| | |
| --- | --- |
| | Nikon's Prosumer Digital Camera |
| | Includes the CoolPix 995 and CoolPix 5000 |
Digital Fine Art

| | |
| --- | --- |
| | A discussion list for anyone interested in the process of digitally produced fine art including inkjet prints or "giclées." Topics include anything related to the process of creating, printing or marketing digital fine art. |
Nikon D1/D1x

| | |
| --- | --- |
| | Nikon's Professional Digital Camera that takes the Nikon 35mm lenses |
FilmScanners

| | |
| --- | --- |
| | Covers all Scanning Issues |
| | Hosted by Tony Sleep |
Eudora

| | |
| --- | --- |
| | The E-mail Program I've been using for over three years |
Photoshop

| | |
| --- | --- |
| | The best Photoshop forum I've come across |
Adobe Forums main page

| | |
| --- | --- |
| | Separate forums for each program |
| | Internet based only, not through e-mail |
| | Requires you to set up a profile |
DPReview's Nikon Talk

| | |
| --- | --- |
| | Probably the best resource forum for the digital photographer using the CoolPix camera. Internet based only (unfortunately). |