[ Back ] [ Up ] [ Next ] [ Search the Site ] [ Digital Jury Services ]
The Podmatic Monopod from Adorama
Adorama's Podmatic (#003458) 5 Section Monopod w/Case (no head).
Their Version Of The Linhof Monomatic
Description
5 Section - 1 Step quick open/close, closed 14" extends to 58 ½", includes case.
Can be locked at any height in between. Only 11 oz.
An improved version of the linhof monomatic - stativ monopod at half the price.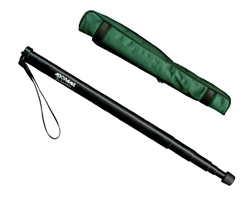 First Impressions
Out of the box it seemed stable enough, reminding me of the Velbon 343E tripod. A good balance of light weight and stability. Update from Adorama. The case is now 2-1/2 inches longer to fit a small ball head.
A great combination with my old Bogen #3209 mini ball head (also needed is Bogen's ultra thin adapter for 3/8 to 1/4 inch). It appears that Bogen doesn't have the 3209 listed on their web site product list. Oh well, another great product bit the dust under the guise of improvements.
Read Herbert Keppler's review of the Podmatic in Popular Photography