The Orphan Rights Bill – Our Greatest Fear
It's not whether or not the orphan rights bill passes, it's the selfish attitude that "everything is free on the internet."
Case in point. One of my most popular photographs of Julius Erving is a shot I took of him from the back with his hands on his hips. Aside from the many prints I've sold, it's been licensed by Converse and reproduced 17×13 feet on the wall of their Julius Erving conference room. It's also been licensed by Harper Collins for the back cover of the Julius Erving autobiography.
http://bermansports.com/picturepages/138.htm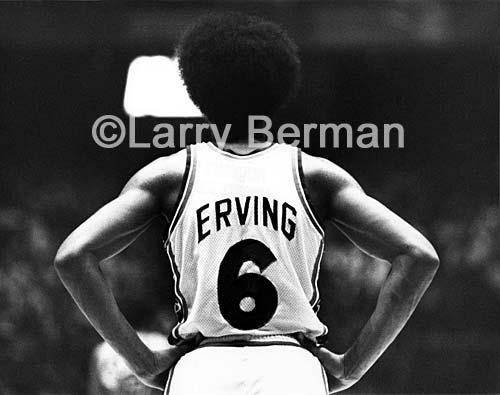 my Dr J photo used for the Converse wall
I have a friend who is a collector of everything Julius Erving. He notifies me anytime there is unauthorized use of any of my images, especially those that get illegally reproduced and offered for sale on eBay. Recently he sent me a link to a web site where a company called The Avenue Venice had designed sneakers with my photograph for the OC Dugout, a sports collectible dealer in Anaheim California for a Julius Erving autograph session. In conversation they told me that the OC Dugout had provided the image and told them they had permission to use it.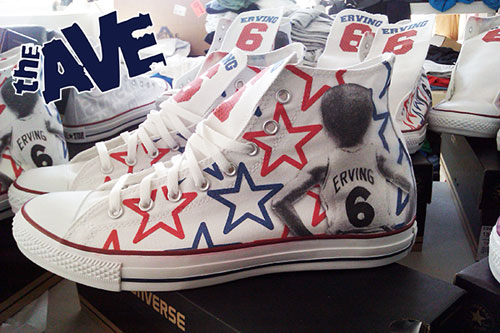 I contacted the Brian Nicalek of the OC Dugout and was told something that blew me away. He told me that it was the first high resolution picture of Julius Erving he had found on Google Images that didn't have an embedded copyright, so he felt that it was free to use. What he had found was either a photo someone took of the Julius Erving Converse Wall or an illegal scan of a print that I sold. And he informed me that he, and a lot of other companies he knows of, take images from Google Images regularly. I asked him how he wanted to resolve the situation and his attitude was that I wasn't being hurt by his usage and since it was a mistake he was going to do nothing.
A one minute search on Tineye for the image would have brought up the same image with my copyright embedded and he could have asked my permission and paid a small licensing fee to avoid this embarrassing article.
And to think that we, as creatives, are worried about the orphan rights bill passing and letting people use our images without permission or without searching for ownership. Hey folks, they're already doing it every day.
And on a final note, you have to ask yourself, how can you trust a company that sells sports memorabilia if they have no respect for the copyright holders of the sports images that they use.