Light Dome Canopy – Mesh Walls for Sale
It's finally come down to this. My second rotator cuff tear in three years and I no longer have the physical strength to set up or break down a booth.
Light Dome canopy only used for about a half dozen few shows. Call me with any questions 412-401-8100
Local pickup in the Pittsburgh area only. $2000 for everything. Same price without the wooden print boxes which I'm throwing in to clean out the garage.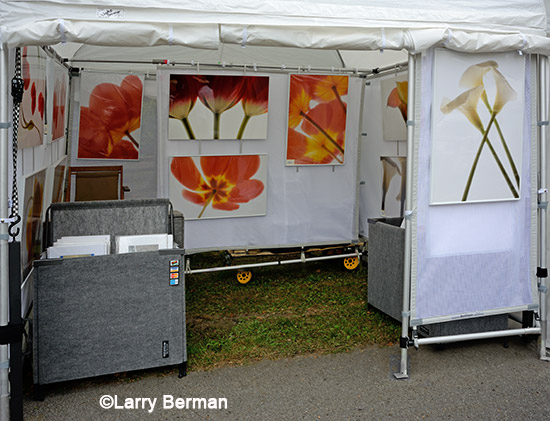 Pro Panel print bins, desk and chair NOT Included.
Light Dome canopy with front and back awning
back wall can convert to a movable wall and/or be reduced to seven feet if you want a doorway at the back and room for inventory and a place to sit inside the booth. Includes a stabar set from Light Dome.
Flourish mesh walls for the Light Dome with a convertible wall if you need a doorway at the back of the booth
30″ French wall for the front corner
44″ French wall for the back behind the doorway when using the seven foot wall moved forward for a place to sit or for inventory so you don't loose any hanging space.
Link to an article I wrote about customizing my Light Dome.
Four Light Dome carrying bags for all the parts. One of which is used to carry all the Flourish mesh walls
Four 45 pound weights made from 2″x2″x3′ steel bars with eye bolts welded at the top and handles welded on the sides. Spray painted black.
16 inch wide double aluminum strap hangers from Flourish go over the top bar so the mesh walls stay clean and new looking. They are also double height so two pieces can hang under each other. They are designed for approximately 20 inch wide or larger framed pieces. More than enough to fill a booth. I used them with 36 inch wide pieces.
I also have various size wooden display boxes with frames made from 1/2 inch electric conduit that only come out 12 inches from the walls to maximize internal booth space. I have a double box for 11×14 outer mat size, a single box for 8×10 mats. A double for 8×10 mats with a removable divider and a two section box for 16×20 matted with storage underneath. For larger unframed you'll have to purchase a bin. I recommend Pro Panels bins.
Rock N Roller R12RT All-Terrain Multi-Cart with 1/2 inch plywood cut out to rest on the bed of the cart, allowing more stability.
Virtually a turnkey solution for photographers getting into art shows. For indoor shows in a 10×10 space, just use the frame, mesh walls and strap hangers.
Local pickup in the Pittsburgh area only. $2000 for everything.