Aging Deadheads
Aging Deadheads. Yesterday was August 1st and it would have been Jerry Garcia's 70th birthday. In memory of the occasion, they ran the Grateful Dead Movie as a special event at select theaters all over the country. If you are a Deadhead or have enjoyed listening to their music, take two hours out of your life, kick back and enjoy the closest thing to a Grateful Dead concert next time it plays. The audience at the showing I was at got really into it, hooting and cheering at the ends of songs, and at one point someone stood up and started dancing and had to be told to sit down.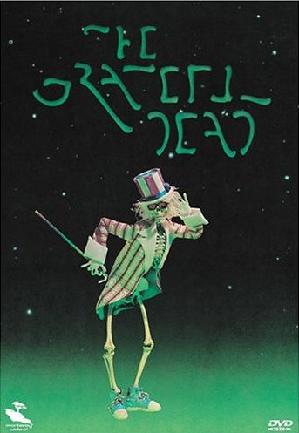 The Grateful Dead Movie
The movie was filmed in October 1974 over a five night run at the Winterland Ballroom in San Francisco, when the Dead were in their prime. I had first seen the Dead in New York at Galic Park in the Bronx on August 26, 1971. And if you were fortunate to see the Grateful Dead years ago or are just into their music, there are over 2800 concerts available for download (for free) at Archive.org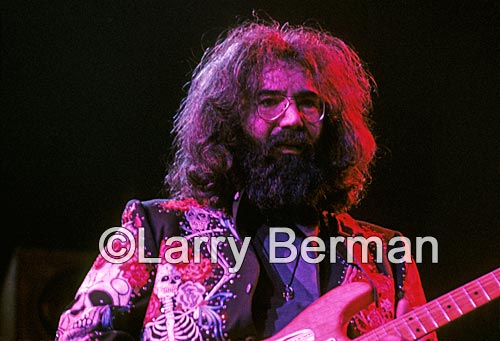 Jerry Garcia at the Stanley Theater in New Jersey in 1972
Here's a picture of jerry Garcia I took in 1972 at the Stanley Theater in New Jersey. Just one of many pictures I have for sale on my 1970's sports web site. There's an interesting story about how I came to capture such a high quality picture of Jerry Garcia in the first paragraph of this page on the web site.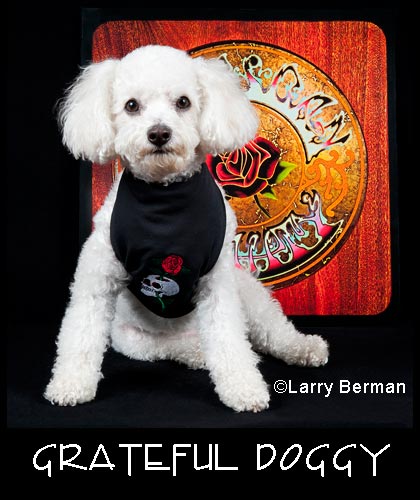 Grateful Doggy
Even my puppy Xena listens to the Grateful Dead.